If you own a commercial property, then you know that the quality of your trees can have a major impact on the value of your property and the safety of your building's occupants. Make sure you hire commercial tree service professionals who are licensed and insured to ensure that any damage or injuries that occur are covered in your insurance policy. For more information on how to hire a commercial tree service in RI, check out these tips below!
1. Know the commercial tree services you want
Before you hire anyone, it's important to know why you're calling them in the first place. Are you looking to save a dying tree, remove a tree, trim some branches, or plant a new tree. There are plenty of services that commercial tree services in RI offer, so make sure that you know what they can do for you before hiring them. 
2. Check on their experience and reputation
When deciding on who will take care of your trees, look for companies that have experience dealing with commercial sites. Search online or ask friends, neighbors, and co-workers about their experience with tree services companies. Be sure you hire a company with an excellent reputation so that your customers are satisfied and continue coming back year after year.
Start asking around now so you can be assured the company will be able to take care of all your needs. It's important to find out what equipment they use, what is included in the price of service, how long they've been operating, and whether they're insured.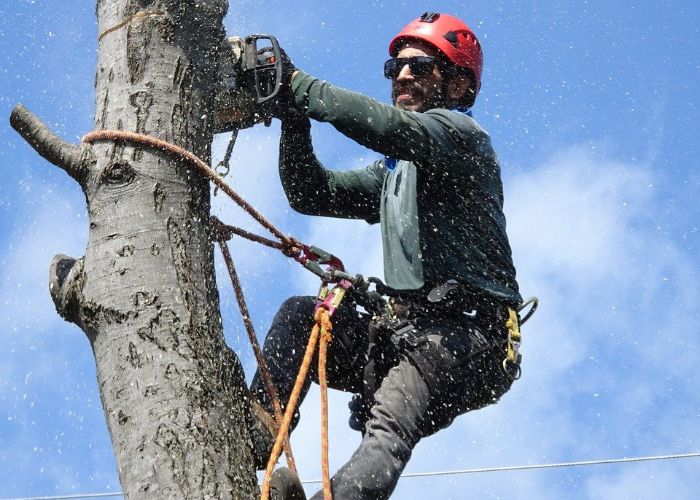 3. Get at least three quotes
A tree service company should have the experience and expertise to provide quality work at a reasonable price. Call three different companies and get an estimate for your job. By getting quotes from three different companies that offer commercial tree service, you'll be able to tell if one is way off from what they should be charging. If it's a lot different from the other quotes, try to find out why. If they're much cheaper, the job quality may be affected or they don't perform some of the work you'd expect, like hauling away dead trees.
4. Research what their customers say about them
Checking their reviews and looking for key points will help you narrow down the best candidate for your business. A couple of things to keep an eye out for are how quickly they respond, what kind of services they offer, and if they are currently available. Reviewers also frequently mention pricing and whether or not they were satisfied with the results.
5. Know your trees and how they grow
It is important to know the type of tree you have and how it grows, as well as what it likes or doesn't like. You don't need to be an expert, but having a basic knowledge of your landscape will help you understand what services you may need.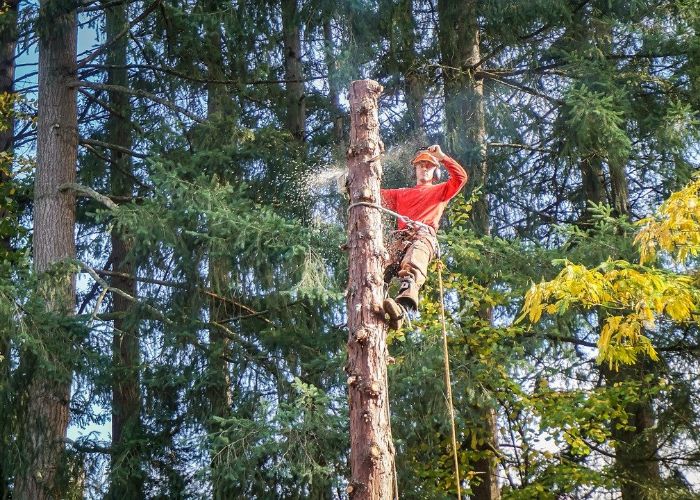 6. Get a detailed quote before work begins
Miscommunication can lead to some serious problems, which is why it's important to get a detailed quote before the work begins. You want to make sure you and the company you're paying for are on the same page with which trees need to be serviced. It's best to have a timeline for when the service will take place as well as cost breakdowns.
 Don't let them cut down trees without your permission
Similar to getting a detailed quote, it's crucial to make sure they know exactly which trees need to be removed in Rhode Island. Don't let them have any room for guessing what you were talking about. Make sure they know the exact area of each tree that needs to be cut down. If they're willing to listen, explain why you want the tree gone and what type of replacement tree you would like planted in its place. You can also ask for a timeframe of when the work will start and finish so that you can prepare your property accordingly. 
7. Inspect the job when it is finished
You should inspect the job when it is finished. You should make sure that they have cleaned up, pulled out all the damaged material, cut away any diseased parts of the tree, and taken care of any other problems they noticed while they were working. If you are not satisfied with their work, you can ask them to do it again or let them know why it's not done right and give them the opportunity to fix it for you.
Removing a tree can range between $200 and $2,000. If you have a lot of trees, this can become an expensive job. That is why it's so important to inspect the job afterward before paying them. If they've packed up and already paid, it may be harder to come back to fix something.
Be sure to reach out to the team at Rhode Island Tree Removal for professional services your business needs. Our contractors are extremely friendly, experienced, and knowledgeable about the tree care or removal you require. Give us a call today!